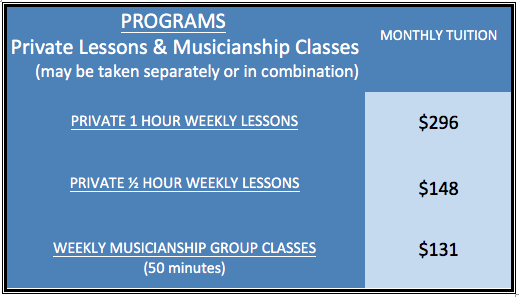 TRYOUT LESSONS:
We offer introductory tryout lessons for students to experience lessons at our Academy prior to enrolling. Tryout lessons may be scheduled for 30 minutes ($37) or 1-hour ($74). Contact us at 305-771-2726 to schedule a tryout lesson.
COMPREHENSIVE PROGRAM
(Combination of Private Lessons and Musicianship Classes) Superior Academy of Music's Comprehensive Program allows students to receive a complete music education. SAM's program is based on a combination of private lessons (either 1/2 hour or 1 hour), with a 50-minute weekly musicianship class that covers music theory, ear training, music history, keyboard harmony, and solfege. More details can be found on our program page.
DISCOUNTS
Comprehensive Program Discount: Students who take both private lessons plus our musicianship classes will receive a 5% discount as an incentive for taking both classes. Annual savings for entering the Comprehensive Program are:
Savings of $252 per year for 1 hour lessons w/ musicianship classes.
Savings of $168 per year for ½ hour lessons w/ musicianship classes.
Sibling Discounts:
Siblings get free registration
TUITION: All students are required to enroll in our auto-bill program. This is a safe, secure and convenient way to pay tuition and any ongoing fees while enrolled at the school. We accept Visa, MasterCard, Discover and Debit Cards. Once enrolled, we will automatically bill your card on the 1st day of every month.
REGISTRATION: A non-refundable yearly registration fee of $50 will be required for all new and returning students. If you are presently enrolled at Superior Academy of Music, this fee will appear on your August payment. Students may register at any time during the year and their first month's tuition will be pro-rated based on their starting date.
WITHDRAWAL: Students may withdraw at any point during the year as long as a 30-day notice is provided. Withdrawals must be submitted by the 15th of the month by either phone, text, or email to our Program Director, Dr. Villaverde. You may also submit a withdrawal form online through our website.