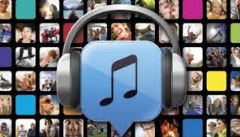 Metronomes, tuners, recording devices, sheet music, books and stands are all the tools that most of us older musicians remember carrying around with us when we were younger. Moreover, many times as we faced the challenge of mastering our scales, developing our techniques and learning theory, we also encountered those occasions when we would forget one of these components of our practice sessions. Fortunately for younger musicians, technology has arrived that supplements some of these traditional tools. Software developers have paired the fact that younger people are never far from a mobile device of some kind with digital tools that engage and excite their minds. Here are a few music-based apps that we think your young musician may find useful in his/her practice.
Music Journal (PRO): This useful app helps musicians keep track of how much time they practice daily. It allows them to set up and name folders in order to better organize their practice sessions. One can even utilize a visual chart that shows how much time has been devoted to practice each day. It is available for iOS.
Practice Center: This iPad app is a video recorder, metronome, stop watch and tuning drone all-in-one. With it you can record audio of a video of your practice sessions and email them to yourself or to others. The app costs $6.99 and can be purchased in the iTunes store.
iReal Pro: With this app you can play along with your favorite jazz tunes and even create your own chord charts. The app even allows you to print out any chart that you've created. It costs $12.99 and is available for iOS or Android.
Loopy HD: This app gives aspiring composers the ability to create a multi-track recording of their voice or instrument.
Amazing Slow Downer (Lite): Compatible with iOS 8.0 or later, this app gives users the ability to slow down (or speed up) a piece of music without changing the pitch. It also allows users to change the tuning or key.
Tunable: This Iphone/IPad app is a chromatic tuner, tone/chord generator, metronome and recorder. With it you can save, record and share an unlimited amount of recordings.
Of course, none of these apps will ever replace expert instruction. A child's growth as a musician will always needs expert interaction and guidance such as the kind we provide at our preschool music program in Miami. Our Pinecrest music school blends technology with hands on human-to-human contact because we know this is the best way to develop minds that will have a lifelong interest and appreciation for music.