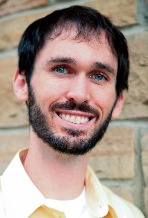 Just before our grand opening this coming August 29th, 2011, SAM is pleased to announce another great addition to our already stellar faculty. Jazz singer, Dr. Tim Buchholz is a nationally recognized jazz singer, educator, and arranger. Students at SAM will now have the opportunity to learn jazz voice lessons from this incredible musician.
As a soloist and group singer, Dr. Buchholz has performed at venues and performance halls throughout the US and in Europe.
Dr. Buchholz's vocal jazz arrangements have been performed throughout the country by college and high school jazz vocal groups, and have been used for numerous all-state vocal jazz ensembles.
Currently residing in Miami, FL, Dr. Buchholz teaches at the University of Miami Frost School of Music in the Studio Music and Jazz Department where he recently finished his Doctoral Degree in Jazz Vocal Performance. He is also an adjunct faculty member at Miami Dade College, and the newly appointed Music Director at the Unitarian Universalist Congregation of Miami.
To learn more about him and watch many videos of his performances and arrangements please visit his website at: www.timbuchholz.com
We can't wait to get started!