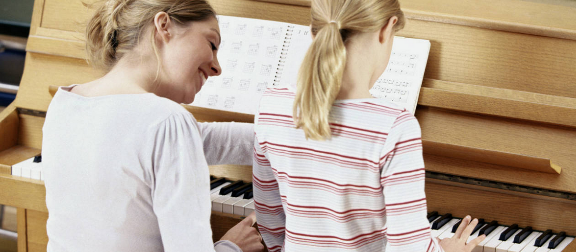 We've all seen the videos on YouTube and other sites that show some adorable 5 year-old playing his/her note perfect version of some classical piece of music such as Mozart's Piano Sonata No 11 in A major K 331 Third movement (Rondo Alla Turca) or Frederic Chopin's Scherzo No. 2 Op. 31, etc. We've all wondered as we've watched the virtuosity of these toddlers if our own children were old enough to learn this instrument. Well, as it so happens this is a common question among parents who are considering starting their child on the piano. The answer to this question will affect the trajectory a child's lifelong experience with music. After all, many adults who never learned to play piano as children often go through the rest of their entire lives regretting not having learned this instrument.
So, the question for parents becomes what is the appropriate age to begin their children on piano lessons. Although many experts recommend that parents should start their children on piano lessons at around six years of age, the answer is a bit tricky. An effective strategy is to expose children to the piano and to music even prior to the age of six. This does not necessarily mean formal lessons.  This can mean simply letting the child listen to music or letting him/her experiment with the desired instrument around the home. Around this age – five or six – children begin to develop the ability to recognize letters and numbers, which is important in learning the musical alphabet. A child of this age may also begin to be able to sit still for a half hour or so also important for helping it to be able to receive instruction. Finally, a child should be able to tell his/her right hand from the left since piano is a two handed instrument.
The short answer then is when a child is around kindergarten age, he/she may be ready to learn to play the piano. (Of course, children like our prodigy on YouTube begin even earlier than age six). Neural pathways are busily forming at this age and are more pliable to learning new skills and taking in knowledge than at any other age. We have a wonderful preschool music program in Miami for young students ages 3-5. Our musical instruction includes piano lessons, voice lessons, guitar lessons, violin lessons, and cello lessons in Miami as well for ages 5 and up. We exploit the burgeoning interest in music and the pliability to new learning situations and experiences that children have but which adults can sometimes lose. We do this with highly qualified instructors who are skilled at creating settings that are fun as well as educational. In addition to working with pre-college level and adult students, our teachers instruct children in the fundamentals of music while helping them to form the motor skills necessary to learn any musical instrument. Enroll your child in one of our programs and maybe one day we'll see him/her on YouTube or at Carnegie Hall.